2012.09.30 Sunday
My work "Planimals"
JUGEMテーマ:
アート、デザイン、日々 / Art, Design, LIFE
これまでの作品、ご紹介 <第2弾>
Planimal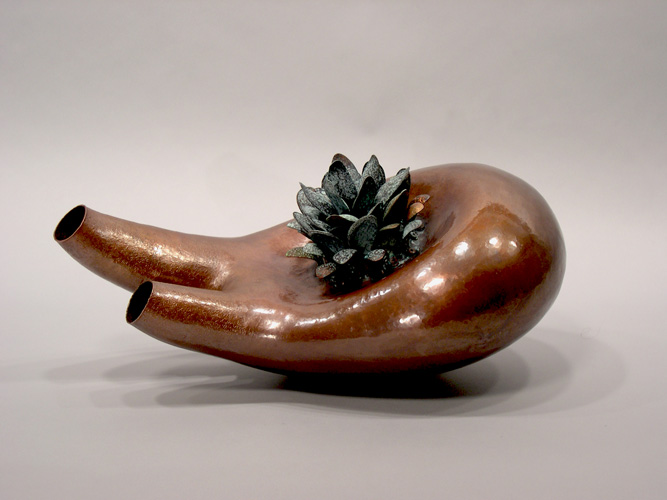 Planimal #8
230×520×270[mm]
copper 2007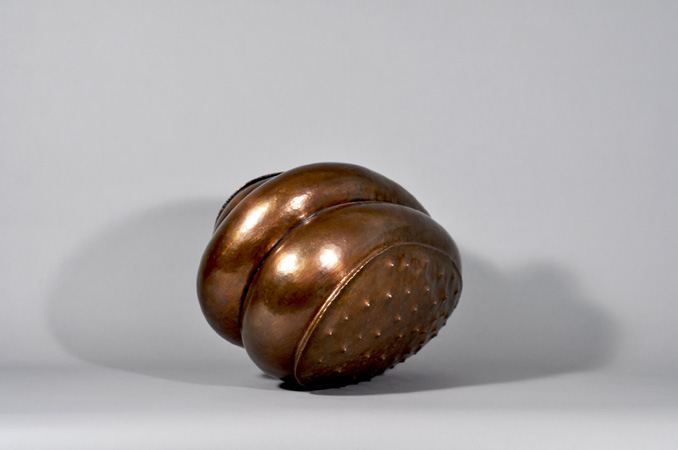 Planimal #9
260×360×250[mm]
copper 2008
These are examples of my series of work called 'Planimals' which I started
in 2005. 'Planimal' is the word that I made up which combined two words,
'plant' and 'animal' .
I was brought up in an environment rich in science, because my home town
was designated by the government as "Tsukuba Academic New Town",
with the aim of being a centre of scientific and technological development.
Most of my classmates had fathers who were scientists, the same as me.
My childhood was full of imformation about crises, such as global worming,
increasing population, food security and, so on. I was frightened and despaired
at this imformation. The fear stuck in my mind for a long time. In fact, science
causes most of those problems although, I had thought science was the only
way that was the primary we could solve future crises. I had thought I
would someday design new kinds of plants to grow in the desert.
Now I have become an artist not a scientist, but the idea of 'Planimal' has a
strong influence from my childhood.
2005 年よりPlanimal というシリーズ作品を制作している。
Planimal とはPlant(植物) とAnimal(動物)を繋げた造語だ。
私の幼少期は終末問題や環境問題とメディアも学校もしきりに未来の
危機についてを伝えていて、現在も同じ様な状況が続いているが、
子供の時分に受けるそれらの情報は非常な絶望感と恐怖を伴って迫って
きた。当時筑波研究学園都市に暮らし、科学のあふれた環境で育った
私は未来の危機を救うには科学の力しかなく、新種の植物の開発
(食料となる農作物等)や人間があらゆる移植等の人体の改造に挑戦し
なくては生きていけないだろうとシリアスに考えていた。
そうした考えがいつしか表現の世界において表出された形として
Planimal がある様に思う。Planimal では動物の持つ動く器官と
植物の持つ光合成や種子等の器官を組み合わせた形体を作ってる。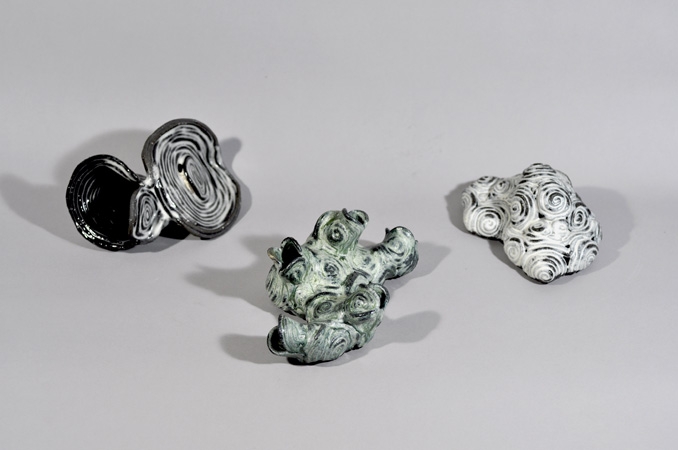 Planimal #1~3
ceramic 2005
2012.09.29 Saturday
My work 2003-2004
JUGEMテーマ:
アート、デザイン、日々 / Art, Design, LIFE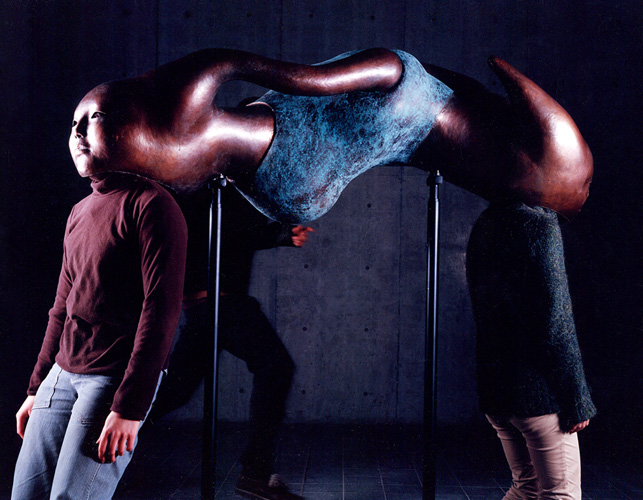 Neo I.T.
620×720×1700[mm]
copper 2004
This is an experience-based art work to communicate with people in an inconvenient way. However, I think it can strongly connect people who put their heads in each side of this work. This is not like mobile phones or computers, so smart and useful, with sharp modern designs that we use everyday. When I did a care experience job at a care home, I realised that I can be myself because I do have my family and my friends always in my mind. I could feel high-technology would not work for some people. Some seniors could not recognize anybody, even their family, and were frightened because, in their minds they were surrounded by strangers.
The image of their disconnected neurotransmitter came into my mind, and I had never known such fear before.
I tried to create some indistinct forms of relationships or connections that I think I have between my family, my friends, and me.
「Neo I.T.」(作品上)私という存在があること、それは常に自分の周囲にいる人たちによって成り立つことを、介護を体験した時に実感し、それまで家族や友人が認識出来なくなる恐怖を知らずにいたことに気づかされた。
家族や友人がいてたとえその人たちがすぐ横にいなくても、気持ちでつながれている。その思いがあるから安心して過ごしていられるのだと。その人と人との間にある何かを形にする試みだ。また現代においてその人とのつながりは携帯電話、コンピューターを通じて保たれる事が多くなりましたが実際に人と繋がれる不自由な装置としてこの作品を制作した。中は空洞であるため音が反響し、同時に入った人と作品を通じた新たなコミュニケーションを取る事が出来る。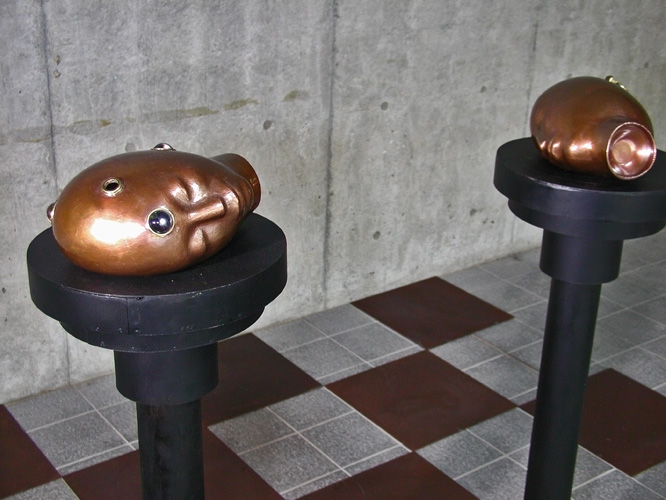 0112
1600×1800×1100[mm]
copper、brass、steel、mirror、acrylic 2003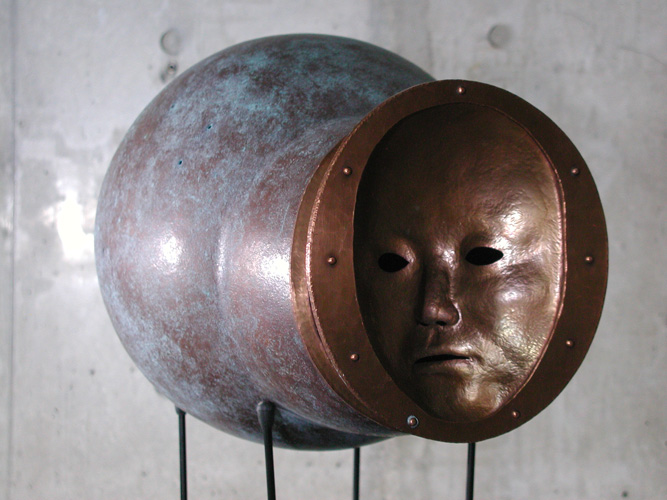 Vessel of human

420×520×350[mm]

copper 2003




for more image http://harukoyamada.net/

(C) 2020